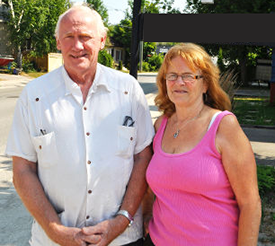 Faithfully Serving Orillia & Area
Living For Jesus is a non-profit organization that has served the Orillia community since 2009.
Rev. Jim Woolcott, his wife Pat and numerous volunteers run the kitchen and free clothing room.
This ministry reflects love, hope, acceptance, compassion, service and justice. Placements are provided for the John Howard Society and youth Justice at the the Drop in Centre. On July 13, 2011 Living For Jesus ministry received its Registered Charity Number and became a registered Charity. In 2013 Living For Jesus ministry served 75,000 meals to those in need. On an average day 40-60 people receive assistance and support through Living For Jesus ministry.
In Matthew 25:31-46 Jesus speaks …
"For I was hungry, and you gave Me something to eat; I was thirsty, and you gave Me drink; I was a stranger, and you invited Me in; naked, and you clothed Me; I was sick, and you visited Me; I was in prison, and you came to Me."
Then the righteous will answer Him saying, "Lord when did we see You hungry, and feed You, or thirsty, and give You drink? The King will answer and say to them, "Truely I say to you, to the extent that you did it to one of these brothers of Mine, even the least of them, you did it to Me."
We have been so blessed at Living For Jesus. Many lives have changed by the goodness of others. Just a quick walk down memory lane truly shows what good times we've shared. We look forward to seeing what God has planned for the future at Living For Jesus.
Living For Jesus teams up with local church to offer free clothes, lunch
Orillia Matters Media Release August 6 2021
click to view
Living For Jesus needs a new home, and fast
Orillia Matters Media Release June 4 2019
click to view
Orillia Outreach Ministry In Need
CTV News Media Release Spring 2019
click to view
Living For Jesus Outreach Ministries is always pleased to hear from you. We seek to provide our community with compassionate care and service, sharing the love of Jesus. We are very thankful to God for our support partners!
If you need our help or wish to bless our ministry by donating food, clothing, or financial help please contact us by telephone or email.